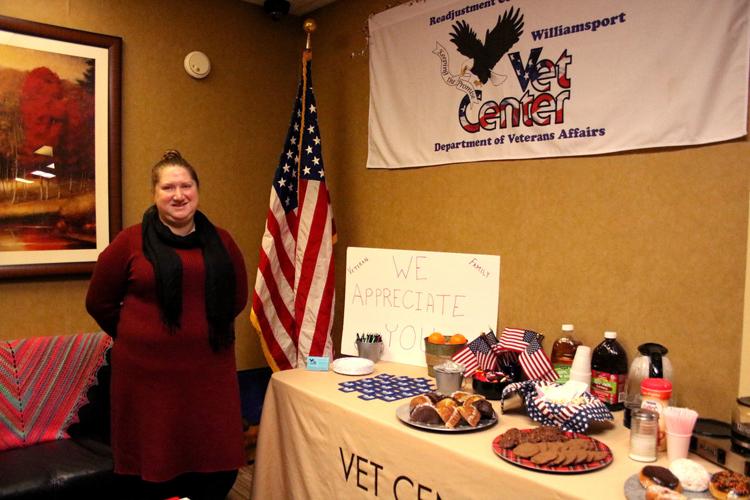 WILLIAMSPORT — When it comes to serving veterans, the Vet Center rises to the occasion.
Affiliated with the Department of Veterans Affairs, the Vet Center provides various support, including counseling services, employment assistance, assistance with VA benefits and much more to war-zone veterans and select others. The Vet Center in Williamsport serves 11 counties — Potter, Bradford, Clinton, Lycoming, Montour, Mifflin, Northumberland, Snyder, Sullivan, Tioga and Union — and has counselor outreach (Community Access Points) in Wellsboro, State College, Sayre, Lock Haven and Sunbury.
Boundaries mean little to staff at The Vets Center, which pointed out every county in the country is represented by a center.
"We're everywhere, even if people don't know it," said Juanita Cook, outreach coordinator at Williamsport. "We would never turn a veteran away who is eligible for services."
In addition to serving veterans, counseling is also available to family members and victims of sexual trauma and harassment. There is also bereavement counseling available.
Staffed by six, the Williamsport Vet Center features four counselors, an outreach specialist and an office manager. Most centers feature veterans on staff and the 24-hour Vet Center Call Center is staffed by combat veterans.
Veterans of the National Guard — those who may have been deployed to traumatic events such as 9-11 or natural disasters — are also served.
Services provided by the Vets Center, even those for active-duty military, are confidential.
"We're trying to help service members before there is a problem," said Cook.
Suicide prevention is among the foremost goals of staff at Vet Centers across the country.
"That first step is the hardest," said Cook. "Once you take that step, there are people there to help you take the next step."
Counselors cater their schedules to the needs of veterans, Cook noted. The Williamsport facility is equipped with video counseling as well. An initial in-person meeting is required, after which counselors may work with veterans so that they needn't come to the office for a session.
There are art groups and a quarterly newsletter for veterans as well.
"It's important to be part of the community," said Cook. "We don't know someone needs help unless they tell us. We are there. We want to be there for veterans."
"We're constantly looking for outreach, different events to do with veterans and those inclusive of veterans," said June Moser, center director and licensed counselor, social worker and family counselor.
One such ongoing outreach is Warrior Writers. The group meets from 5 to 6:30 p.m. each Thursday and shares a theme, which veterans write about for 20 minutes.
"It's a therapeutic group," said Moser. "We started a monthly Warrior Writers group to provide veterans the opportunity to be a group with other veterans. They can share their experiences and it's empowering."
Next November, to coincide with Veterans Day (Nov. 11) and National Writers Day (Nov. 12), the center hopes to have stories of local veterans to be shared with the community. The event is still being planned, but promises to provide the veterans an opportunity to share their experiences with the community. Community members benefit by hearing firsthand the accounts of military service and experiences of those in combat.
"We hope to have a public event," said Moser. "This is going to be an opportunity to educate (the community) on various wars and eras. Veterans will be able to educate about what they did and where they were. It will be a soul-searching opportunity."
For more information about Vet Center, visit vetcenter.va.gov or call the Williamsport center at 570-327-5281. The Veterans Crisis Line is 800-273-8255 and the Vet Center Call Center is 877-927-8387.