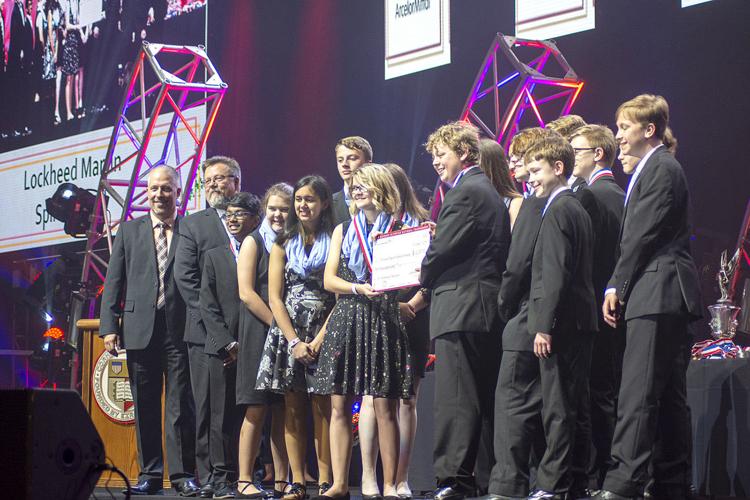 ITHACA — A group of Athens students completed a historic season over the weekend as the Harlan Rowe Middle School Science Olympiad team came home from Cornell University with a 15th-place finish at the national tournament.
"This is the first time anyone from our area has gone to nationals," said coach John Slocum, who has coached the middle school team for three years. "There are 7,000 teams in the country. The 7,000 teams got whittled down to 60 teams and out of the 60 we finished 15th. We were pretty excited and pretty pumped."
The Harlan Rowe team had to beat out some schools considered powerhouses in the science olympiad world like Pittsburgh private school Shady Side Academy to earn the trip to nationals.
"The teams that we're beating out from this are pretty prestigious schools. It's pretty remarkable when a small school like Athens gets to (dethrone Shady Side Academy) to go to nationals in their place," said Slocum, who saw his squad finish second at states in late April.
Leading the way for Harlan Rowe at nationals were a pair of teams placing third in individual competitions. The team of Carter Henry and Ronel Ankram finished third in the Boomilever competition.
Henry would also team up with Katie Gorman to take the bronze home in the Game On competition.
Jacob Sickler and Mea Abbott placed fifth in the Rollercoaster division, and Andrue Andrus and Ankram were fifth in Disease Detectives.
"It's almost unbelievable to think that they can do that. First of all, the opportunity to compete in anything at this age — where you can say 'I'm going to be ranked this number in the nation' — those opportunities are very few and far between. Any place that you get at nationals puts you in a very elite group," said Slocum of his students' performance.
The Harlan Rowe squad also brought home the Lockheed Martin Spirit Award, which came with a $2,000 prize, and is "given to a school whose team members exhibit sportsmanship, teamwork, team spirit and respect that exemplifies the spirit of Science Olympiad competition."
"This is one of the awards that I'm most proud of because it's not just about learning science in science olympiad. We try to teach them a lot of things. We want to teach them the value of hard work. The value of working with people and discipline and just being a good member of a community and that community being the science community," Slocum said.
"They are all incredible kids. They are all really focused and they understand those concepts of just being a nice person and that's really what got us the spirit award," Slocum continued. "Our team has a good reputation in the (Science Olympiad) community for being a team that plays fair and isn't cocky or doesn't talk trash and things like that. That's why the award is very special to me."
Slocum is extremely proud of his team — and he has been thrilled with the support they have received from the school district and community as a whole.
"With all of the attention coming toward STEM (Science, Technology, Engineering, Math) in recent years ... I think now the general public and society in the U.S. is realizing that it is important and we're seeing incredible support from the community and the school board, too," Slocum said. "I couldn't be more happy with the school board, the teachers and the principals and all that. They are behind us just as they would any other sports team or any other team of any type that would be competing at this level."