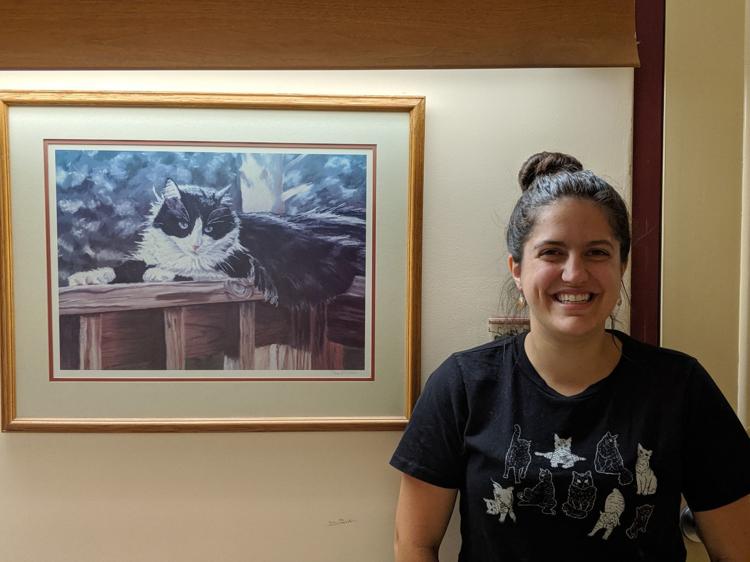 ATHENS — After traveling as far as Central America in her journey to become a veterinarian, a 2011 Athens High School graduate has returned to where it all began.
Abby Davenport recently fulfilled her dream of becoming a veterinarian, and all she had to do was hop across the Susquehanna River to the Athens Animal Hospital on Riverside Drive.
"It's good to be back home," she said. "It doesn't really feel real yet. I usually came home during the summer when I was in college anyway and then go back to Ithaca."
After graduating from Athens High, Davenport joined Cornell College for Veterinary Medicine, where she joined the FARVets program, which is a non-profit organization that provides spay and neutering operations, and other medical services, to other countries.
That experience led her to a seven-day trip in Belize, where she volunteered to help the Hopkins-Belize Humane Society.
Back home, Davenport interned at the Athens Animal Hospital as a vet tech, which helped her become more comfortable and have experience at the facility before officially joining on as a veterinarian.
"It helps that I kind of already knew everyone here from my time as a vet tech," Davenport said. "I got the hands-on experience I needed, and they kept me on their radar when I went back to school."
While Davenport called joining the Athens Animal Hospital a "right place at the right time" situation, she said she always knew she wanted to become a veterinarian.
"I've always loved animals," she said. "And I always liked science in school, so it was a pretty good fit. I love the compassion for animals and getting to work with animals every day."
Davenport noted that being a veterinarian in her hometown made the job even more special, as she often already knows the people and animals that walk through the door.
"I loved being able to come back here," she said. "It's more comfortable. I don't have to learn a whole new area. I already have great relationships here because of so many people that I've already known for years. It's important to have those relationships in this job, because people often see their pets as members of the family, and having that trust is big so people know that you're doing the right thing."