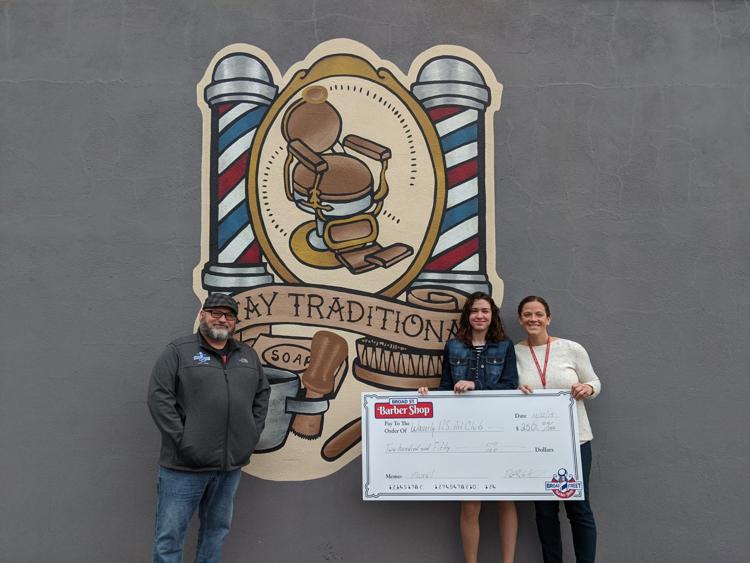 WAVERLY — "He could have outsourced this project out to a a graphic designer, but he reached out to us, instead," said Waverly High School art teacher Becky Lantz.
She was referring to Broad Street Barber Shop owner Pat Elston, who recently teamed up with the school district's art department and, more specifically, student artist Alyssa Simonetti who painted a mural on the side of Elston's business.
The barber shop-themed artwork led Elston to donate $150 to Simonetti to continue her artistic pursuits, as well as another $250 to the district's art class.
"It just turned out perfect," Elston said. "She was very diligent and responsible throughout painting it, and it looks great for the community. You see things like this in other towns, and it really adds color to the town and makes it look more vibrant. It just sends a positive message to everyone in the community."
Lantz said Simonetti painted the mural as an independent study, as she has already taken all of the art courses that the district has to offer.
"When Pat reached out to us, we had the perfect person and talent to do it," Lantz said. "There's been such positive feedback already. People love it, and we would love to be able to do similar projects with other businesses in the village."
Elston thanked Lantz and Waverly Superintendent Eric Knolles for their support in the project, and said he looked forward to coming to the district soon to give free haircuts to students on Dec. 4.
"All the kids have to do is sign up, and they'll get a free haircut. That's it," Lantz said.
"Becky was instrumental to making all of this happen," Elston said. "She really loves her kids and, without her, none of this would've happened."