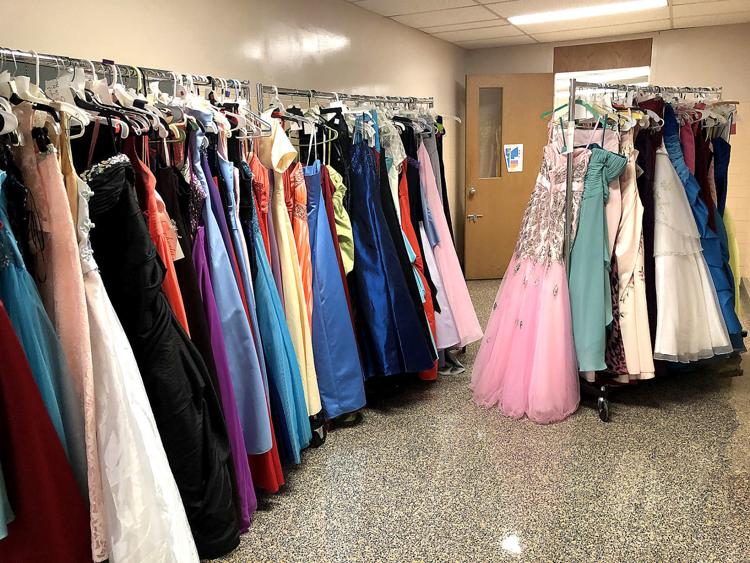 SAYRE — For high school girls, winter formals and proms are an important part of their year. For parents, that can mean digging deep into their pockets to buy dresses for those special moments.
Fortunately for local high schoolers — and their parents — Sayre High School will once again be holding a prom dress sale with gowns and dresses going anywhere from $5 to $70.
The dress sale will be held on Saturday, Oct. 19 from 10 a.m. to 4 p.m. at Sayre High. Attendees should use the Brock Street Entrance.
"It's something that I thought would be neat to do for years, and last year a couple of my (senior class) officers were on board and said 'lets try this because we wear these dresses one time and why should we spend $600 on a dress that we're wearing for three hours,'" said Sayre High teacher and senior class advisor Kara Cochi.
Cochi wasn't sure what to expect when she asked for people to donate their old prom dresses, but she would quickly realize there would be no shortage of gowns at their sale last year.
"We put it out there in the paper last year and said 'hey, if anyone has any old gowns they want to give us, any dresses — bridesmaids, prom, whatever — we will take them," Cochi said. "We got way more dresses than I could have ever anticipated, ever. So we ran the sale a couple of times (last) fall and we did it a couple of times in the spring as well."
With a ton of dresses still in stock last spring, Cochi and company decided to open the sale up to surrounding communities.
"In the spring, we reached out to the schools in Bradford, Sullivan, Tioga counties and up in New York state as well and that brought a lot of extra traffic in. I mean we probably sold 65 or 70 gowns last year and I still have almost 200 gowns to sell this year," said Cochi.
There was still around 150 gowns and dresses left over from last year and Cochi said she has received at least 50 more for this year's sale.
The key for parents will be the affordability, while the high school students will have plenty of styles to choose from.
"They are very affordable. Some of them are brand new. Some of them have been worn one time — you can tell they have been worn one time," said Cochi. "We've got pretty much everything and anything you could possibly want — short, long, skinny, poofy."
Cochi, who also noted that there are sizes from 0 through 22, said that she received a positive review from someone who took advantage of the sale last year.
"(One mother) said it was the best investment she had ever made," said Cochi. "(She told me) 'my daughter came and bought a beautiful gown for $40 and wore it for three different dances.'"
All money raised from the sale will go into the general fund for the Sayre High senior class. Cochi said funds will be used for senior trips, banquets and graduation.