Remembering a Valley legend: Waverly's Les Goble, who played in NFL, passes away at 87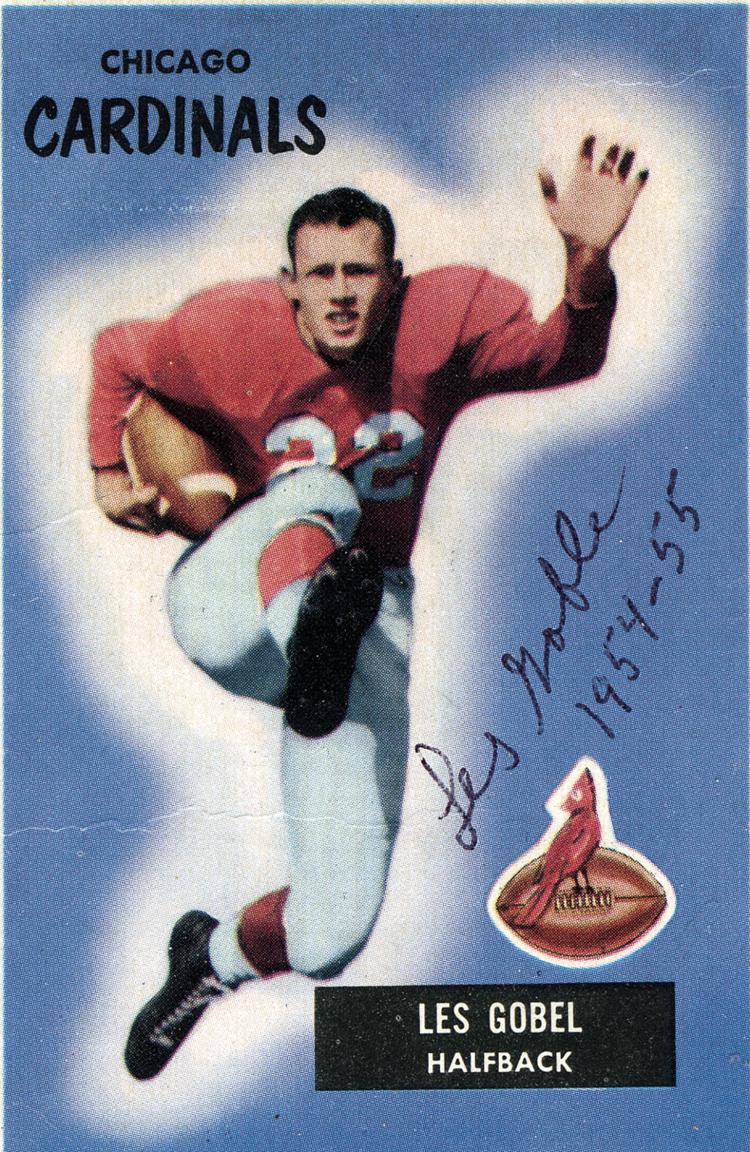 Back in 2011, the Morning Times set out to pick the Top 25 Male Athletes in the Valley area's history. One name near the top of that list was legendary Waverly football standout Les Goble.
We here at the Morning Times were saddened to hear the news that Mr. Goble had passed away on Monday at the age of 87. We join the entire Valley in mourning the loss of one of our community's most legendary figures.
As a way to honor Les, we have decided to re-run the interview that Sports Editor Dave Post did with him when he was chosen as the No. 3 Male Athlete of All-Time in the Morning Times' coverage area.
The complete story can be found below:
A number of Valley athletes have gone on to play pro ball in one sport or another, but just one played in the National Football League. That man, Waverly's Les Goble, is number three on our top-25 countdown.
In addition to football, Goble, who graduated from Waverly in 1950, starred for four years in basketball, three years in track and two years in baseball for the Wolverines.
Goble was a speedster for Waverly, earning a first-team All-Valley nod in his junior and senior seasons and he translated that speed to the track, where he was a sprinter. In fact, it was that speed that led him to Alfred and later, to the (then) Chicago Cardinals (moves to St. Louis and Phoenix came later) of the NFL.
In fact, he went to Alfred on a track scholarship.
"I didn't really like track," said Goble, adding that he felt that just running was boring.
He held the Alfred record for the 100-yard dash at 9.8 seconds. In his senior year, his coach at Alfred took a select group of athletes to the ICAAAA meet, describing the event as a fun event that would give his athletes a chance to see some Olympians in action. He gave Goble his choice of events, thinking he would choose either the 100 or 220. He crossed the coach up by selecting the 200-yard hurdles — an event he had only run once before.
"The hurdles were more fun than just running," said Goble, who went out and set the fastest time in the nation. That made him the top seed at nationals.
"I didn't even want to go to nationals — I was signing a football contract," said Goble.
Go he did, though. "I hit the first hurdle and that was it."
His passion was for football.
Statistics are hard to come by — "That wasn't a concern," said Goble — for both his high school and college years, but Goble, a halfback and punter throughout his high school and collegiate careers, must have done something right because the pros came calling.
"I heard on the news that I was drafted," said Goble. I thought, 'great.' The guy who did the scouting came to campus with a contract. My (college) head coach was my negotiator. They offered me $5,000. Coach said 'he wants $6,000.' We eventually settled on $5,500.
The next year, Goble signed for $6,000.
"That wasn't the lowest contract," said Goble. "There were a lot of players making less money than I was. There were some making twice what I was."
Goble made a name for himself right out of the gate, running a kickoff back 94 yards for a touchdown against the New York Giants in the team's first game of the 1954 season.
"They wouldn't kick to me the rest of the game," said Goble. "That ticked me off."
In his second-ever NFL game, against the Philadelphia Eagles, he repeated the feat, going 87 yards for the score.
"They kicked to the rookie and I took it all the way back," said Goble. "They refused to kick to me again. That ticked me off."
In fact, Goble didn't get to return another kick for a number of games. That's what success will do. The other return men the Cards had were Charlie Trippi and Ollie Matson, who rotated in on the other side of the field. After each of those took a kick back for six, teams started using the squib kick.
The one team that did kick deep was the Cleveland Browns, with Lou "The Toe" Groza doing the kicking.
"Charlie Trippi took the first kickoff and got it out to the 40," said Goble, who thought the offense would be happy to take over there, despite a 5-yard offside penalty called on Cleveland. He was surprised his coach took the penalty. He also switched Trippi and Goble.
"I took the next kick at the goal line and took it back almost to their 20-yard line."
By the time the year ended, Goble had amassed 749 return yards on 27 attempts. His two TDs led the NFL that year and his average of 27.7 yards per return was second in the league. In addition to returning 22 punts for 51 yards with a long of 18 yards, Goble also got 30 carries for Chicago that season, ending the year with 42 yards and one touchdown. His 800 total return yards was third in the league that season.
"(The key is) you have to go as fast as you can right at them so you can stop the defense from coming down the field," said Goble when asked about how to be a good return man. "You have to slow them down. The slower they go, the farther you're going to be up the field. You run right at them and don't break away until you get into tackle territory. Then you break away at an angle."
With the reputation of being too dangerous to kick to, Goble got far fewer opportunities in his second season, returning eight kickoffs for 160 yards.
Goble isn't enthralled with the state of the game.
"They don't know how to tackle. They don't have to know how to tackle. They just go out there and make cheap shots," said Goble. "It's the same way with blocking. They can't block. They just get their hands up there and grab."
In 1956, Goble was put on waivers by the Cardinals and was offered a contract to play for the Hamilton Wildcats (a later merger with the cross-town Tigers brought about the current Hamilton Tiger-Cats), but was injured in the preseason and never played for Hamilton.
Or anywhere else, as it turned out.
So, what does it take to go from a small town to play at the highest level of your sport?
"You have to have a passion for the sport. That means no parties, drinking or smoking. Also, when you have some spare time, go out and practice by yourself," said Goble of a technique that he employed. "You don't need 10 other guys to practice football. It can be done. If you want to learn how to punt or pass, there are plenty of ways for you to practice."