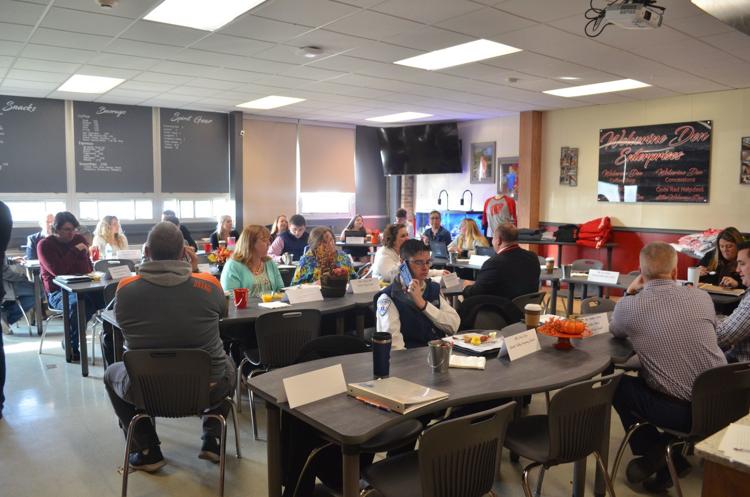 WAVERLY — Waverly Central School District officials held their latest work-based learning program advisory board meeting on Thursday with business leaders from around the Valley region — and hosted them in the student-operated Wolverine Den.
The multi-service operation serves as a coffee shop, IT help desk, credit union and, possibly soon, concession stand for staff and students, and is completely managed and operated by students at the high school, according to assistant principal Ryan Alo. The Den even has two fish tank — one saltwater and one freshwater — that is used for marine biology learning.
However, district staff allowed the students to do most of the presentations in terms of work-based learning and how the Den has benefited them.
"When we started this last year, we had maybe between 20 and 25 students involved, and now we have up to 60 kids," Chief Student Officer Jake Sackett said. "So we've grown enormously. We have to keep each period staffed. We learn and maintain professionalism and courtesy. It's been such a huge learning experience for me."
Sackett acknowledged that challenges would be coming up for the Den, such as refilling the staff and management positions once those students graduate, but added that he was excited to see that process unfold.
Chief Marketing Officer Abigail Bonning echoed Sackett's comments regarding the Den as a positive learning experience, noting that she drove towards developing creative ways to market the establishment to students.
"We were always looking for ways to grow," she said. "We introduced new coffees and spirit gear. We adjusted pricing to make the Den more inviting. We want to make it more than just a cool hangout spot."
Like Sackett, Bonning outlined the unique challenges in managing what essentially operates as business.
"But we face our problems," she said. "It's ok to mess up, as long as you own up to it and make a true learning experience."
Sackett's 15-year-old brother, Cody, is in charge of the Den's concessions, which has now grown from a few students staffing it to approximately 12.
"The progress has just been tremendous," he said. "We've expanded the food choices. We're working on even getting Mooney's involved. We're also working on having the concessions here in the Den during winter sports.
"I'm just extremely thankful for this experience," Cody Sackett continued. "I really feel like I can take this and look back on it for the future."
Alo then updated the room on the Den's Code Red help desk on behalf of senior Ryan Talada, who was unable to attend the meeting.
"We don't want to just be student-focused. We want to be student-driven," Alo said. "And that's what we have with the help desk. It's entirely staffed by students, who can help other students with low-level issues with their school-owned laptops.
"The really cool thing about this is that even the teachers use it," he continued. "They come in. They drop off their device and get a replacement device so they, student or teacher, can continue to work while their laptop is getting fixed. They can then come back later and pick up their original device, or the student will track them down and deliver their laptop back to them. We have a growing tech base here and it's the students that are doing it."
Rachel Shambo walked through the different aspects of the Ingersoll-Rand Federal Credit Union branch that is open at the Den, along with the options available to students.
She explained that students can learn about banking and accounting operations, how to open a credit card and other forms of financial education.
"Only five states require a half-year of personal finance education," she noted.
Coffee shop manager Devin Searles boosted up the real-life work environment that students experience, which he said would help kids get jobs by teaching them how to operate a cash register, take orders, problem-solving skills and professionalism.
"All of this that we're talking about is entirely developed and driven by the students," Alo emphasized. "We want our managers to manage and lead. They have developed their own procedures, which has led to students doing what I think is one of the hardest things to do as a student, which is call out your peers in a professional manner, which I think is a very valuable lesson."
The Den is also branching out into the arena of catering, which is being led by student Amber Davis, who said much of her focus has been on planning for Tinsel N' Lights.
"But overall, I think my favorite part of this experience has been listening and seeing how different people interact behind the scenes to get these events off the ground," she said.
The next meeting of the advisory board is scheduled for 9 a.m. on Feb. 20. The public is invited to attend.