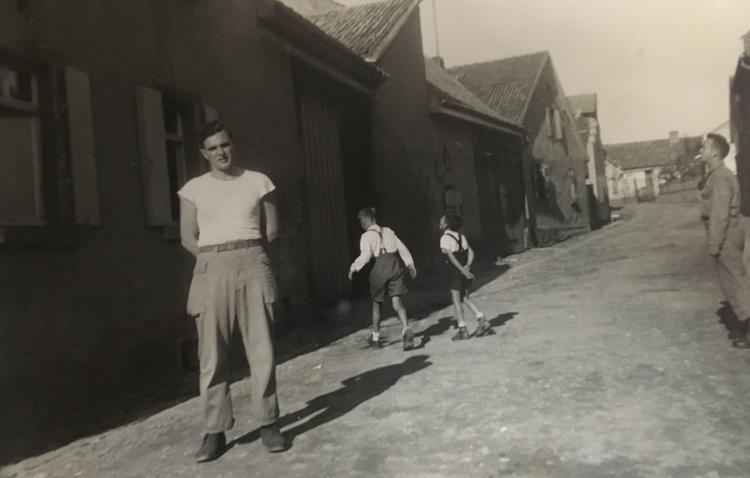 ATHENS — "When I came home, I was ready for the nuthouse," said World War II veteran Bill Cowles.
Seventy five years later, Cowles has said his memory "doesn't work like it used to."
However, he silently dealt with his Post Traumatic Stress Disorder over the decades by staying incredibly busy in the Valley community.
Cowles met his wife Virginia in 1947, and married one year later on Dec. 26, 1948.
He has long credited her for saving his life.
The few years after his arrival back home have been lost within foggy memory, but he recalls working for a short time at Ingersoll-Rand as a machinist.
That was until a heated dispute bubbled over, which involved a raised hammer and Cowles strongly suggesting that his co-worker go away. Cowles ended up quitting the job moments before his supervisor came down the hallway with the intent to fire him.
Shortly after, at a union meeting, he was rehired. However, he promptly walked over to his former boss and told him that though the dispute was over, he could take the job and "shove it."
From there, with an associates degree in engineering, Cowles went on to work for roughly five years at Ward Lafrance Truck Company in Elmira, designing state-of-the-art emergency response vehicles as a draftsman.
It was the suggestion of an acquaintance that prompted Cowles' application at IBM in Owego, from which he would eventually retire after 30 years.
Cowles said he enjoyed his job in Elmira but went through with the interview at IBM when they called him.
"He asked me when I could start, and I told him seven weeks," Cowles said. "He said 'I don't know if that will work for us.' But, I told him we were working on a very important project and I wasn't going to leave my guys before it was finished.'"
"He said I must be a pretty stand-up kind of guy," he continued. "I told him I try to be, and he offered me the job if I gave my word that I'd be there seven Mondays from that day."
Cowles' IBM career started at the airborne computer lab in Vestal as a junior engineer. A few years later in 1957, he was promoted to aircraft installation designer. Again in 1959, he was promoted to design engineer in installation development; associate engineer in tool design and test equipment in 1962, and senior associate tool designer in process engineering in 1969. He became a staff engineer/scientist in test equipment engineering in 1980.
He the worked on Project Gemini capsule in the early 1960s but can't quite recall the other particular projects he worked on.
But, he did remember that "they always had me in the hot spots."
"I never understood most of (his job)," Virginia said. "I could see where he was a very good engineer, because he always does things so precisely and correctly."
Outside of his professional life, Cowles was a whirlwind of activity each day as he tried to keep his mind busy.
"He was always busy and just kept going after retirement," his wife said.
She also explained that the main way she helped him deal with PTSD was allowing him to go do all the things he wanted.
"I think some women would've not gone along with it," she said. "It was difficult at times — him doing so much."
Cowles ran at least three miles every day in the same route throughout the Village of Waverly.
He was an instrumental figure in the Penn-York Archer's Club, which won countless tournaments and received steady news coverage in The Evening Times.
He also bowled and played golf often — he fondly remembers getting a hole-in-one at Tomasso's.
Being that he has been a lifelong outdoorsman, Cowles was a New York State certified hunter safety teacher and taught archery and marksmanship classes for both adults and youth in the Valley.
Additionally, he was a founding member of the Lockwood Farmers and Sportsmen Association as well as the Valley RC airplane club.
Cowles explained that he wanted to enter the service out of high school as a pilot but did not pass the vertigo test. His love of airplanes and flight continues to this day as he has dozens of photos of model planes and radio control systems he built along with a stack of airplane magazines in his room at Sayre Health Care Center.
With all those activities, Cowles always made time for fishing, trapping and hunting — even getting the IBM award for getting the biggest buck among all company employees, weighing in at 178 pounds.
He recalled fishing up north, where another man was "being a wise guy with his line — the next thing I knew, he was in the river, and I told the other guy 'I don't think he's going to bother you anymore.'"
With Virginia, the two would also practice archery and marksmanship, with her winning several trophies and shooting a perfect score on a few occasions.
Additionally, they would fish together, go on boat rides, rollerblading, dancing lessons and more.
"We had a lot of fun," she said.
Through it all, "Bill never talked about the war," Virginia said, "He had very good friends that were in the war, and they never talked about it."
"He doesn't like to watch movies or read about it," she continued. "It's terrible when you take a 18-year-old and throw them in that kind of situation. Of course it affects them."
"Especially in that war, at that time, the men came back and didn't talk about it," Virginia said. "Now, they have learned that it's much better if they talk to each other and let it out rather than keep it all buried."
For decades, they didn't know he had a PTSD diagnosis.
"I didn't realize what it was until we went to the VA, and this man there knew what was going on and told us," she said. "It helped me to realize what it was. It was a long time before we knew what it was."
Cowles had been prescribed Xanax for a number of years, and when it was discovered that long-term use of the medication was the cause of chronically low blood pressure that led to him passing out, his prescription was changed.
Going on eight decades later, Cowles and his wife — as well as their three children, Bill, Patricia and David — have endured his PTSD and other combat-sustained physical ailments in the most honorable way imaginable.