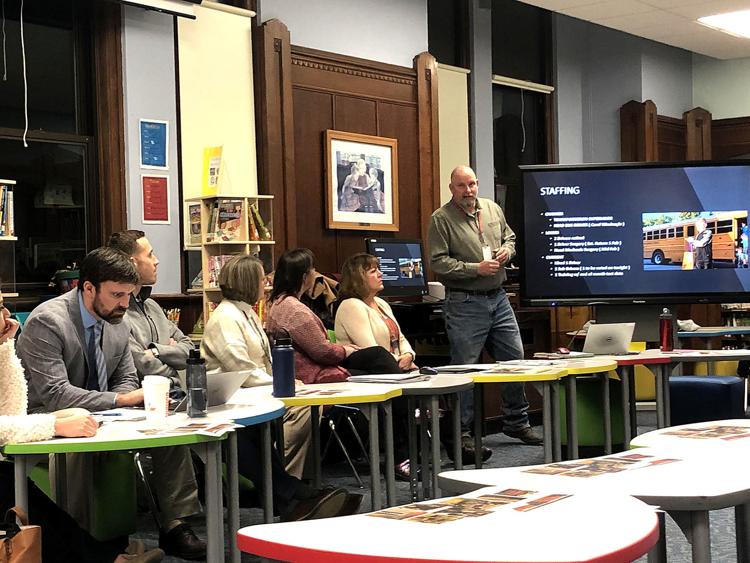 SPENCER — The Spencer-Van Etten School Board was advised to consider financing the purchase of new school buses at the Thursday board meeting by Business Administrator Susan Grey in order to establish a strong capital reserve fund for the district.
Transportation Director Tim Wilson told the board during his transportation presentation that three new 70-seat buses need to be added to the fleet this year at a cost of $121,141.50 per bus for a total of $363,424.50.
"I would ask the board to consider financing the buses this year and in following years in order to establish a capital reserve fund in order to help offset taxpayer costs for upcoming capital improvement projects," Grey said.
Grey added that funds accrued in a capital reserve would be used to cover local tax-payer portions of capital improvement projects, representing a net gain for taxpayers despite the fact that financing the busses instead of paying upfront inherently makes the busses more expensive.
"We are currently on a five-year fleet rotation where we sell buses that are five years old and buy new ones. Doing this ensures maximum resale value while also ensuring that our buses have the most up-to-date safety equipment, are in the best possible shape and are more environmentally friendly," Wilson said.
Wilson went on to say that while more buses are being sold this year than are being purchased, every year bus purchases must be made to keep the fleet up to date. No action was taken by the board regarding financing the buses or establishing a capital reserve fund.
During the presentation, Wilson also detailed the work of the recently hired head bus driver, repairs that are needed to the bus garage and issues regarding tool use with the mechanics.
"Currently mechanics are bringing in their own tools to work on the buses, so I would like to establish a tool budget for the garage," Wilson said.
Board President Don Johnson questioned the need for a tool budget, saying that for many mechanics it is the norm for them to bring in their own tools.
"And then there is the concern of tools (disappearing)," Johnson said.
Wilson responded that it is currently in the mechanics' contract that tools will be provided for them. Board members also brought up concerns over safety and liability issues regarding mechanics bringing in their own tools. No vote was taken on a tool budget.
District School Resource Officer Rob Blaasch also gave a presentation detailing his first 82 days on the job.
"As you know, and we discussed this before I even started, it always seems like something happens when I am not in that building," Blaasch said, adding, "However the response times have been solid when called."
Beyond providing an extra safety presence for the district, Blaasch, who is a retired Tioga County deputy sheriff still working part time with the department assigned to the SRO position, also detailed how he has established an open-door policy for students.
"Students have talked to me about careers in the military, police work, or sometimes they come in just to blow off some steam," Blaasch said.
Following the presentations, the Board voted to allow a sportsman field trip into Pennsylvania despite the fact that the trip was previously canceled due to the prevalence of students returning with weapons such as knives and tasers.
Superintendent Diahann Hesler said that students would purchase these weapons in Pennsylvania, where they were legal, and return to school with them where they are not allowed.
With taser sales in Pennsylvania now illegal, the board voted unanimously to allow the field trip with the added condition that Blaasch is authorized to have students turn out their pockets and examine their bags before entering the bus to return to school.