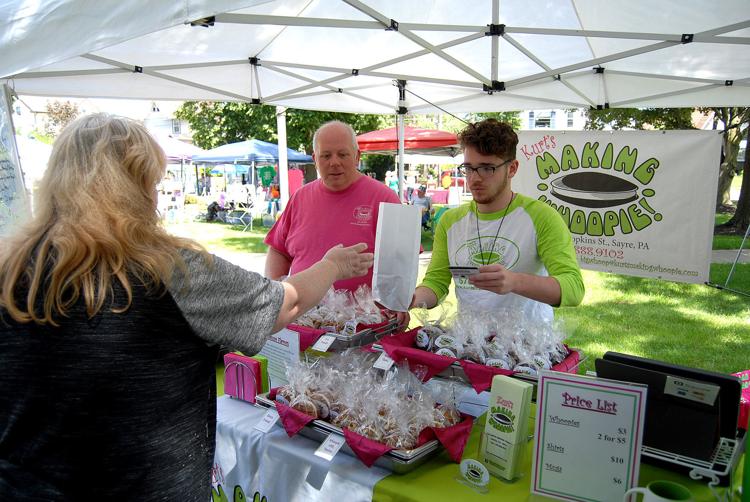 SAYRE — The Saturday sun brought many Valley residents of all ages to Howard Elmer Park in Sayre for the annual Street Faire held by the Church of the Redeemer.
The event originally started as the church's youth group's way to accrue funds for a new roof, but the event has been continued due to it becoming a community spirit event, according to seven year Co-Chairman Margaret Cole.
"The church really rallies, you barely have to ask anyone to be involved with it and everybody is here pitching in to put this together since 6 a.m.," stated Cole.
Vendors were brought in to offer everything from popcorn to essential oils alongside parrish members who were in charge of pies, beverages and other food products. This year's fair had a few more vendors, totaling at 31, and saw almost the whole park filled with tents, according to Vender Organizer Emily Skjold.
"The church has been a member of the community for 100 plus years, but it's nice to get out and let the community meet us and see what we are about," said Cole. "Start as strangers and end up as friends as a hymn just said a couple weeks ago which is how it kind of is."
Cole expected a good turn out due to the nice weather, which was in contrast to the snowy day that they had last year.
"It is such a beautiful day, last year we froze to death so the numbers weren't as high as usual," stated Cole. "As a church we are just a loving bunch of people, we welcome anybody that wants to come and see what we are about."
Funds from the event were designated towards church expenses, youth events and a variety of outreach programs offered by the Church of the Redeemer.